First impressions of Beats Solo3 Wireless, and Apple's W1 chip
I got my Beats Solo3's today, and along with them answers to a lot of questions I had about exactly how Apple's new W1 wireless chip works. The first thing I noticed was that there's no mention of the W1 or the improved pairing features it brings with it on the box. I was actually worried that I misunderstood what I was buying. It is clearly explained in the small instruction pamphlet inside, but I'm surprised they're not promoting it more.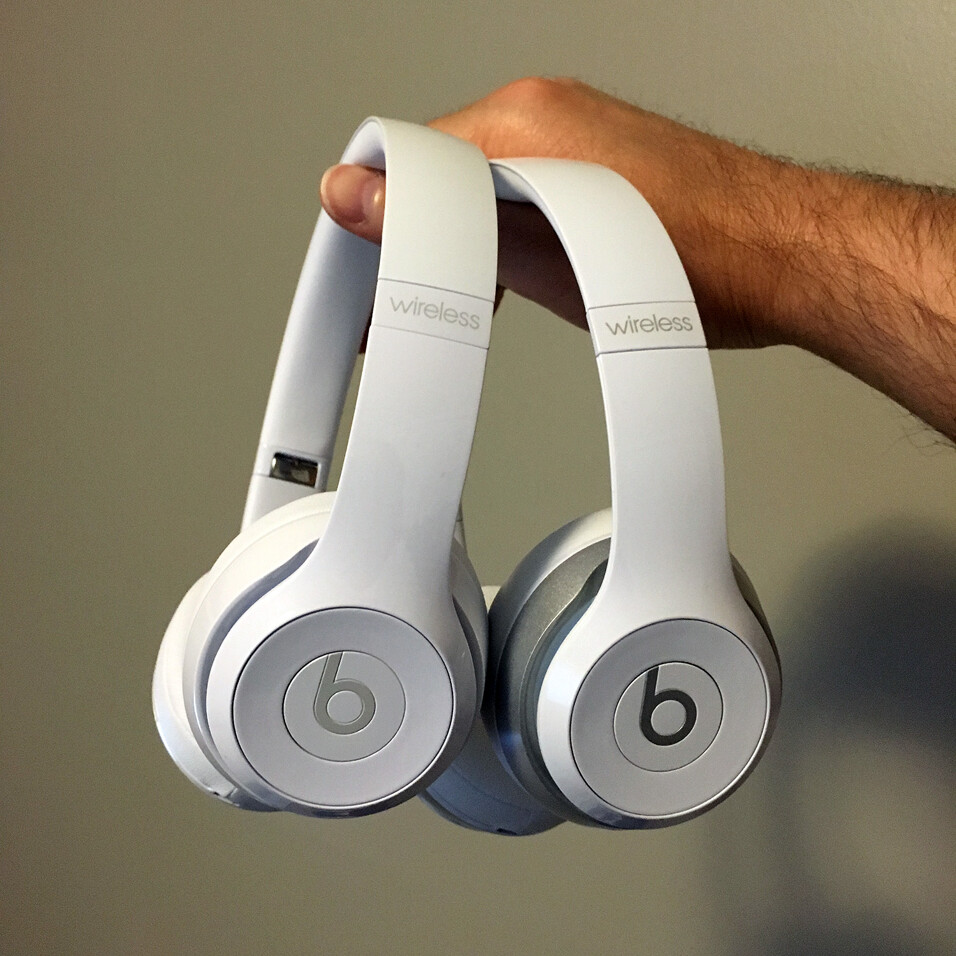 The headphones themselves are very similar to the Solo2's. All the same buttons and battery indicators are there. There's still an optional wire included with a standard headphone jack—which is nice so you can use them with anything, or if you just prefer wired when possible. The styling is slightly different on the glossy white pair I bought: some pieces that used to be silver are now white, and the silver printing that's still there is more subdued. There are also some small improvements to the soft case and USB cable.
Everything I've read about headphones with the W1 chip tells you to pair them with your iPhone first. I'm still not sure why. I tried following the same instructions with my iPad and Mac, and it didn't work. I know I could have paired them manually, but it was odd not to see the "magic" pairing work on the iPad at least. There's no mention of needing a particular iPhone—just iOS 10—so I don't think it uses NFC. (Which has been a common way to pair Bluetooth devices outside the world of Apple for years.)

The pairing process with an iPhone is exactly like what Apple demonstrated for their AirPods. The only difference is that you press the power button on the headphones instead of opening the case. Then you hold them close to your iPhone, tap Connect, and you're done. They're now paired with all your Apple devices as long as they have the latest OS version, and are signed in to the same iCloud account.
When the headphones are connected to an iOS device, the Bluetooth icon in the status bar changes to a pair of headphones. Interestingly, there's no battery indicator there like there is with my older Beats, but of course they do show up in the Battery widget in Notification Center. Correction: the battery indicator does show in the status bar some of the time. I'm not sure why it isn't always there.
One feature I had read about is that Apple's AirPods automatically switch between devices. It turns out that's only true of switching between your iPhone and Apple Watch. The Solo3's do this too. If you want to use them with another device, you need to manually select them as the output. On iOS you can do this from Control Center, in the Music app, or anywhere that shows an AirPlay icon. On a Mac with Sierra, just click the volume icon in the menu bar—you no longer need to option-click like you did on older versions.

Having to manually switch isn't as magical as I thought, but overall it's better than I expected: switching between third-party devices is greatly improved as well. Previously here's how I had to switch from, say, my iPhone to my PlayStation Vita:
Either turn off the iPhone, make sure it's out of range, or unpair the headphones from that device
Put the headphones into pairing mode
Go through the entire pairing process on my Vita
Repeat this every time I need to switch
Here's how it works now:
Pair the headphones once
Select the headphones as the output any time I want to switch
This is pretty much perfect.
When I manually paired the headphones with a Mac still running OS X El Capitan, I got a notification saying the accessory requires a newer version of OS X. They worked fine though, and I was still able to quickly switch between that Mac, my PlayStation Vita, my iPhone, and my Apple Watch, without ever re-pairing or manually disconnecting anything.
The sound quality seems overall pretty similar to my Solo2's, though I think they've tweaked things a little. My Solo2's always seemed like they were elevating the high and low end a bit for a more dramatic sound—the Solo3's sound more even to me. I never had a complaint with the previous sound, but I don't mind the change.
One final note is that the Beats Updater app for Mac does not seem to recognize the new headphones. You can check the battery level in either the Volume or Bluetooth menu bar icon, and you can rename them in the Bluetooth pane of System Preferences if you like. That just leaves firmware updates, if there ever are any. Obviously the AirPods wouldn't get updates through Beats Updater, so I'm guessing all devices with a W1 chip will be able to get updates in a more automatic way, and the Beats Updater app will no longer be necessary. That is just a guess, but it seems to fit better with the way Apple does things.
I've primarily used Bluetooth headphones for the past year, and by far the biggest frustration has been the clumsy process of switching between devices. The W1 chip along with Apple's latest software solve those problems very well. I wish they would have found a solution that played better with others, but as they often do, they chose to create the best solution they could and keep it to themselves. Since I primarily use Apple devices and already liked the Beats lineup, this isn't a problem for me, but it will be for others. I am extremely glad to see that I can use these new headphones with non-Apple devices almost as seamlessly as Apple's own.
Posted September 15th, 2016
Link to this entry: https://mikepiontek.com/go/8891